It's time for a Great Homes Upgrade
Write to your MP ahead of the spring budget
---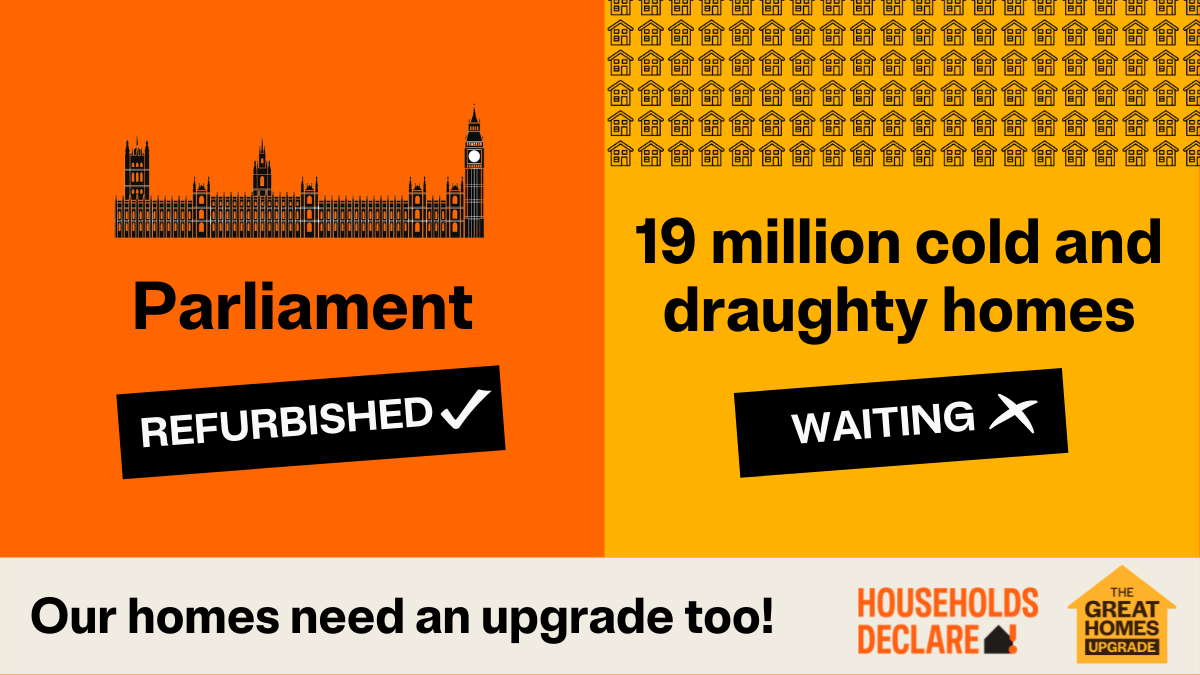 Families up and down the country are facing a combination of energy price rises, benefits cuts, tax rises and soaring inflation as the cost of living crisis bites.
We need urgent action from the government to make our homes warmer, greener and more efficient whilst at the same time bringing down bills.
On Wednesday 23 March, chancellor Rishi Sunak will stand up in parliament and deliver his budget.
This is his chance to take action and put Britain on the path to net zero by committing to a Great Homes Upgrade.
The government's existing plans add up to just £2bn and fall way short of what's needed. A Great Homes Upgrade is a package of measures that includes increasing government spending on retrofitting to £11.7bn.
Did you know, that's almost exactly the same amount the government is planning to spend on refurbishing parliament?
For that same amount, you could upgrade 4.4m homes to higher energy efficiency standards and save those households on average £345 in energy bills! So that's £12bn for one parliament or 4.4m homes — we know what we think is the priority!
That's why the New Economics Foundation is calling on the chancellor to back a Great Homes Upgrade. And we need your help.
We need to send a message to the chancellor, his backbenchers and politicians across parliament about why the Great Homes Upgrade is so important. We have campaigners gathered outside parliament and the Treasury today handing him a letter but you can help from home too.
Can you write to your MP and ask them for a Great Homes Upgrade?
We've created this quick and easy tool for you to do that. We've drafted a letter for you so just fill in your details, edit the letter if you'd like to make it more personal and then click submit — it will go straight into your MP's inbox!